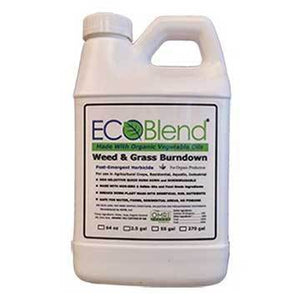 OMRI listed weed control
Non toxic & non-translocated
Safe around humans & animals
Biodegradable
Made with organic vegetable oils
Kills poison ivy, weeds & grass naturally
EcoBlend Weed & Grass Burndown is a highly effective patented formula—made from fatty acids of plant oils—that quickly kills weeds, vegetation, and poisonous plants like poison ivy.  It is a natural alternative to chemical-based herbicides without the harmful effects to watersheds, the environment and is safe to use around humans and animals. EcoBlend Weed & Grass Burndown breaks down the plant mass into beneficial ground nutrients.